1

Make the porting request
To start the porting process you need to complete the Porting Request Form. You can either do this online the bmobile website (link below) or in person at any bmobile retail store or dealer.
2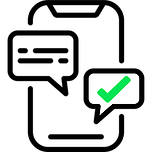 Confirm Porting Authorisation
After you Porting Request has been successfully submitted you will receive a text message asking you to authorise porting to bmobile. Simply reply to the text message to confirm. We'll take care of everything else.
3
Collect your new SIM Card
Once you've authorised the Porting Request, we'll get to work setting you up on the bmobile network with your existing phone number. You'll need a new bmobile SIM card and once it's ready, we'll let you know when it's time to collect it. Usually this happens within 72 hours.